Studi Asosiasi Kata: Mohon bantu berpartisipasi
Halo semua! Jika kalian adalah orang Indonesia, yang fasih menggunakan bahasa Indonesia, usia berapapun, bolehkah saya meminta bantuan kalian untuk berpartisipasi dan menyebarluaskan penelitian psikologi tentang Asosiasi Kata?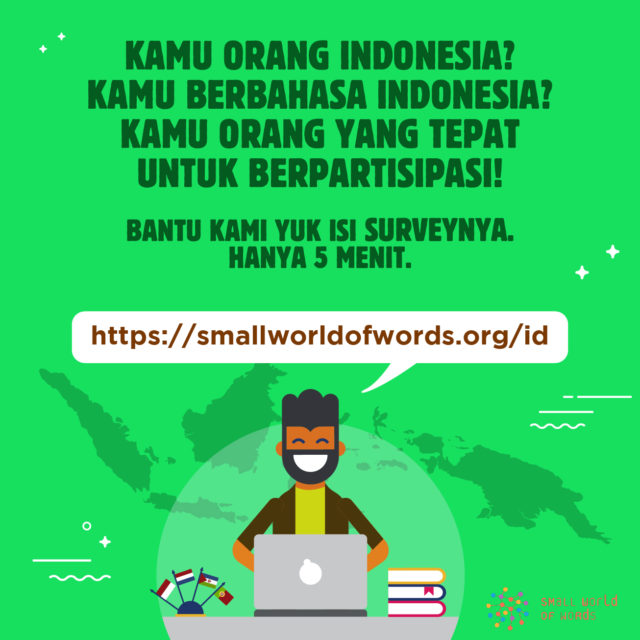 Seperti yang telah tuliskan di catatan dosen sebelumnya (Mohon kesediaannya untuk berpartisipasi dalam penelitian asosiasi kata), bekerja sama dengan Universitas KU Leuven, Belgia dan University of Melbourne, Australia, studi asosiasi kata ini bertujuan untuk membuat jejaring kata layaknya dalam mental dictionary yang bentuknya akan berupa seperti jaring neuron di otak. Berbeda dengan buku kamus, kami akan menggunakan asosiasi kata untuk mempelajari arti kata dan kata-kata apa saja yang tersentralisasi dalam pikiran manusia.
Selain Bahasa Indonesia, studi asosiasi kata ini juga dilakukan dalam 13 bahasa lainnya, antara lain: Bahasa Inggris, Belanda, German, Cina, Vietnam, Perancis, Italia, Portugis, Spanyol, dan lainnya. Silahkan lihat di website Small World of Words untuk informasi yang lebih lengkap.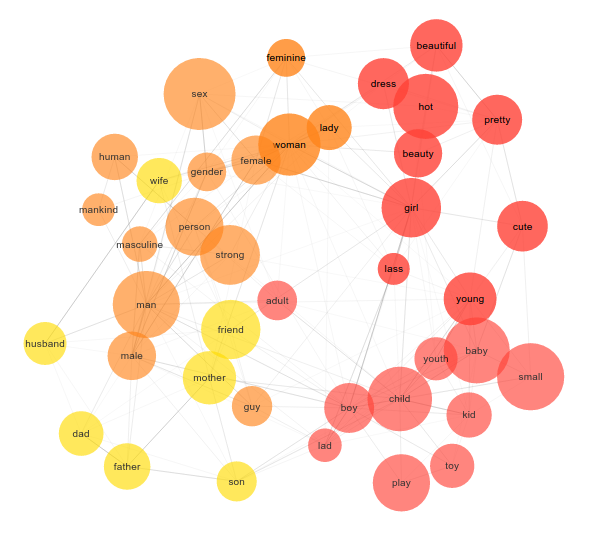 Untuk membuat model seperti gambar di atas, kami membutuhkan jumlah respon kata-kata yang cukup. Untuk itu, kami membutuhkan jumlah partispasi yang cukup besar, hingga 100.000 orang! Terhitung hingga tanggal 19 Maret lalu, jumlah partisipan berbahasa Indonesia sudah mencapai 2729 orang dan menduduki peringkat ke -9 dibandingkan bahasa lainnya. Pelan-pelan asal kelakon!
Untuk itu, kami membutuhkan bantuan Anda untuk berpartisipasi dalam studi ini melalui link berikut: https://smallworldofwords.org/id
Jika Anda bersedia membantu, Anda dapat  menyebarkan link penelitian ini kepada keluarga, teman, atau Anda dapat melakukannya kembali di lain waktu dengan respon jawaban yang berbeda.
Saya tunggu partisipasi Anda dan terima kasih banyak atas bantuannya!