Membina Nusantara 'a la' Psikologi BINUS
Tuntutan publikasi yang tinggi di kalangan akademisi (yang dikenal dengan sebutan "publish or perish"), tidak terkecuali di kalangan dosen dan peneliti Indonesia, tidak dapat dipungkiri bukan hanya merupakan persoalan keluaran (output), seperti jumlah publikasi dan pengutipan (sitasi), tetapi juga masukan (input) dan pengolahan (process).
Demokratisasi pemerolehan pengetahuan melalui internet, ternyata masih penting untuk ditunjang dengan tindak mentoring yang sesekali membutuhkan perjumpaan badaniah. Hal ini disadari pula oleh Kementerian Ristekdikti,sehingga Bantuan Tata Kelola Berkala Ilmiah (BTBI) dalam rangka peningkatan kualitas penulisan artikel di jurnal ilmiah secara rutin diselenggarakan.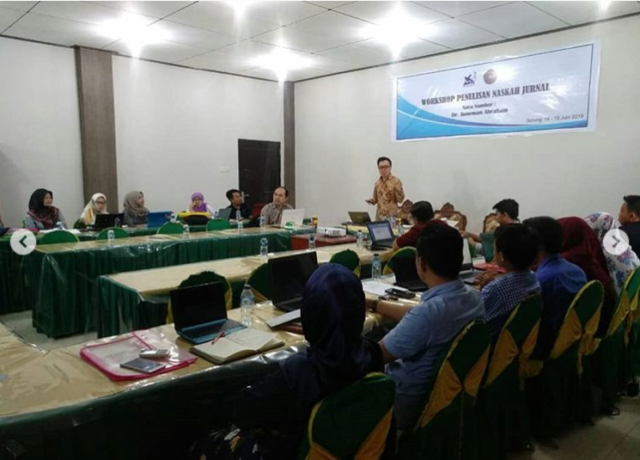 Pada 14-17 Juni 2019, psikolog sosial yang juga Lecturer Specialist Jurusan Psikologi BINUS University, Dr. Juneman Abraham, memperoleh kehormatan untuk berbagai (sharing) tentang Penulisan Artikel di Jurnal Ilmiah Nasional. Pengundang adalah Lembaga Penelitian dan Pengabdian Kepada Masyarakat (LPPM), Universitas Muhammadiyah Sorong, Papua (UM Sorong).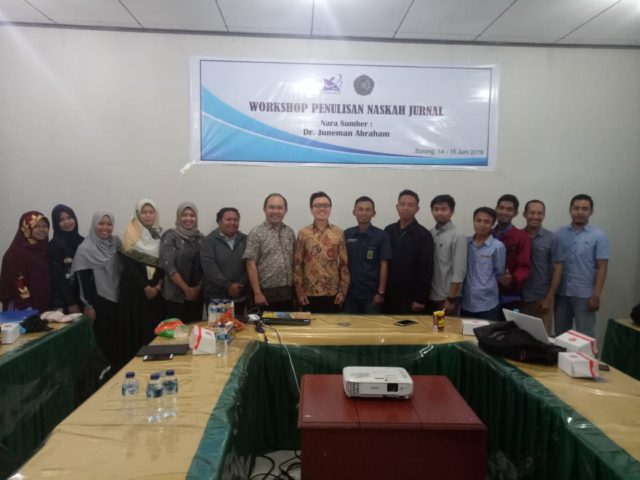 Sedianya, acara ini dikhususkan bagi komunitas Jurnal Rancang Bangun dari Program Studi Teknik Sipil UM Sorong. Kendati demikian, menurut Muh. Syahrul Kahar, Ketua LPPM UM Sorong, kegiatan ini merupakan momen yang sangat baik untuk diseminasi lintas prodi, sehingga turut hadir perwakilan editor/penyuting dari setiap fakultas dan prodi yang telah menerbitkan jurnal ilmiah. Saat ini UM Sorong telah memiliki tiga buah jurnal yang telah berakreditasi dan terindeks SINTA, yakni Qalam: Jurnal Ilmu Kependidikan, Median: Jurnal Ilmu Ilmu Eksakta, serta Jurnal Noken: Ilmu-Ilmu Sosial.
Acara ini dibuka secara resmi oleh Rektor UM Sorong, Dr. H. Hermanto Suaib, M.M., dengan mata acara, sebagai berikut: Etika Penulisan Artikel di Jurnal, Standar Regulasi dan Ketentuan Artikel Nasional, Standar Isi Penulisan Pendahuluan, Metode Penelitian, Hasil dan Pembahasan serta Simpulan, dan diakhiri dengan Pendampingan Penulisan Artikel Dosen.
Semangat Sains Terbuka kuat dianjurkan untuk di-"getuk-tular"-kan dalam praktik penulisan dan publikasi ilmiah. Di samping itu, praktik-praktik terbaik dari BINUS University, khususnya LPPM (di BINUS adalah Research and Technology Transfer Office), sesuai harapan Rektor UM Sorong yang dikemukakan pada saat Pembukaan, turut dibagikan. Hal ini karena, meskipun UM Sorong telah memperoleh Akreditasi Institusi dengan Peringkat B, UM Sorong ingin belajar dari capaian-capaian BINUS University yang sudah berada di QS World University Ranking.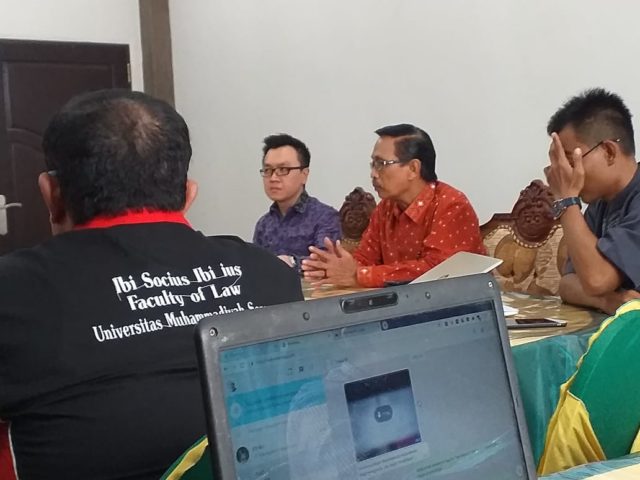 Prof. Tirta Nugraha Murstiama, Ph.D., selaku Vice Rector – Research and Technology Transfer, mengistilahkan kunjungan ini sebagai "Membina Nusantara". Kami memang disambut dengan sangat hangat dengan ungkapan Prof. Ismail (demikian panggilan hormat saya), "Kesediaan beliau datang ke Sorong, kerap saya sebut seperti perjalanan ke luar negara, merupakan kehormatan bagi UM Sorong. Terbang ke Kota Sorong, tidak saja dalam soal waktu tempuh, juga pesawatnya terjadwal dini hari. Maka, kalau ada orang Jakarta bersedia ke Papua, itu bagian dari kecintaan terhadap Indonesia kita. Jangan sampai bicara kesatuan berbangsa & bernegara, justru tidak bersedia menjelalajah sampai ke pelosok Indonesia." Diharapkan perjumpaan ini akan dilanjutkan dengan aktivitas-aktivitas saling berkunjung berikutnya, antara BINUS University dan UM Sorong, baik secara informal maupun formal.