Bagaimana Membuka Indeks Thomson?
Menurut Kementerian Ristekdikti, keberadaan sebuah jurnal atau prosiding dalam pangkalan data Scopus dan Web of Science (dahulu dikenal sebagai ISI Thomson Reuters, dan sekarang dalam pengelolaan Clarivate Analytics) merupakan salah satu penanda dari reputasi tinggi. Dalam Web of Science (WoS) terdapat beberapa indeks, seperti:
Science Citation Index Expanded (SCIE)
Social Sciences Citation Index (SSCI)
Arts & Humanities Citation Index (AHCI)
Emerging Sources Citation Index (ESCI)
Conference Proceeding Citation Index (CPCI)
Book Citation Index (BCI)
Meskipun ihwal penanda reputasi masih menjadi perdebatan di kalangan akademisi di berbagai belahan dunia (bahkan ada yang menyebut bahwa sebuah metrik keluaran WoS, yakni Faktor Dampak/Impact Factor, merupakan sebuah mitos), penting juga untuk mengetahui bagaimana mengakses WoS.
Berikut ini adalah sejumlah contoh dari preview dari pangkalan data WoS. Tidak mengherankan bahwa tampilan semacam ini langka kita temukan, karena memang WoS hanya dapat diakses secara berbayar (melanggan); tidak seperti Scopus yang memberikan akses parsial secara gratis, misalnya Author Profile.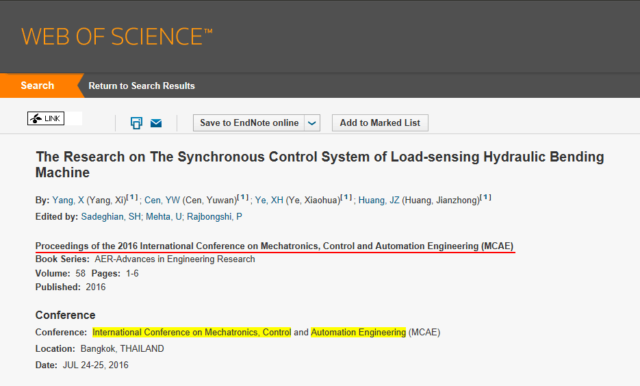 Sumber: http://www.mcae2017.org/images/MCAE2016_ISTP.png

Sumber: http://icemse.org/Templates/jinge/images/1.png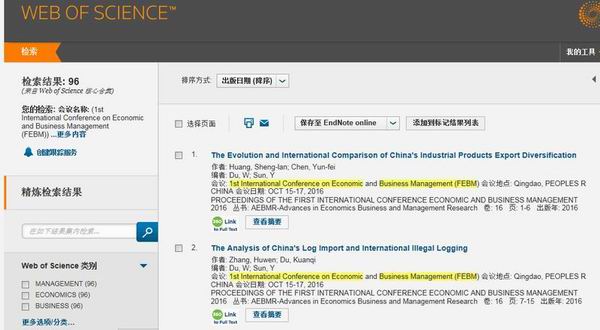 Sumber: http://www.febm.org/2016/images/CPCI%202016.jpg
Lalu, bagaimana mengakses pangkalan data WoS?
Caranya adalah dengan log in di http://login.webofknowledge.com
Lalu cari dengan cara demikian: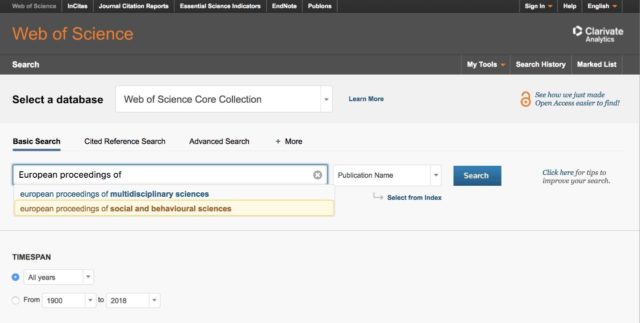 Sumber gambar: FutureAcademy.org.uk
Tautan ini merupakan contoh hasil pencarian artikel riset penulis dalam pangkalan data Web of Science.
Jika ingin mengetahui penerbit yang masih sahih terindeks, cari tahu di http://wokinfo.com/mbl/publishers/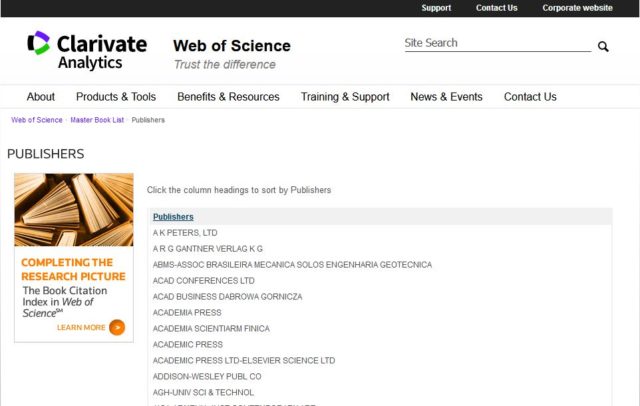 Mahasiswa Pascasarjana biasanya dapat menggunakan layanan akses Scopus dan Web of Science yang dilanggan oleh perpustakaannya. Ada beberapa yang memberikan layanan proxy yang bisa diakses dari rumah, tanpa mesti hadir secara fisik di kampus.
Sebuah lembaga terpantau menghentikan langganannya terhadap pangkalan data Scopus karena berakhirnya kontrak dukungan finansial terhadap database ini, dan merekomendasikan Web of Science.
Peter Larsen dan A. Rathemacher (2017) memang pernah menyatakan analisisnya bahwa faktor "kontra" untuk menggunakan Scopus adalah "potential fo future price inflation", meskipun saat ini Scopus lebih murah harga langgannannya daripada Web of Science. Satu juga catatan yang penting dari analisis mereka adalah bahwa Web of Science "stronger in Humanities than Scopus" (lebih kuat dalam bidang Humaniora). Salah satu turunan produk Clarivate Analytics adalah Publons, yang dapat dimanfaatkan secara gratis oleh pengelola jurnal ilmiah guna mencari mitra bestari (scientific journal reviewer) berdasarkan riwayat dan merit system.
Apapun perdebatannya, yang jelas saat ini Scopus digunakan oleh lembaga pemeringkat Universitas Berkelas Dunia (World Class University), seperti: