Tahun ini adalah pertama kalinya band kesukaan saya, Coldplay, melakukan tour Asia sampai ke beberapa negara di kawasan Asia Tenggara seperti Singapura (1 April), Filipina(4 April) dan Thailand (7 April). Bukan sebuah kebetulan, setiap tanggal 7 April juga ditetapkan oleh World Health Organization (WHO) sebagai World Health Day. Setiap tahunnya memiliki tema yang menjadi perhatian orang seluruh dunia yakni topik kesehatan yang spesifik. Tema tahun 2017 adalah depresi.  Lantas apa hubungan? Lirik lagu yang diciptakan oleh Coldplay dikenal sangat uplifting dan dianggap sebagai "obat" untuk perasaan-perasaan negatif para penikmatnya. Apa buktinya? Berikut saya lampirkan foto yang saya ambil dari akun Instagram resmi Coldplay.
(Sumber : https://www.instagram.com/p/BSbu-gsFKFA/?taken-by=coldplay)
Ada beberapa penggalan lirik lagu Coldplay yang mengajak para pendengar musiknya untuk bangkit, miliki semangat hidup sehingga bukan tidak mungkin membantu para penikmat musiknya melewati masa-masa depresi dalam hidupnya. Lirik-lirik tersebut adalah sebagai berikut:
You see the world in black and white. No colour or light. You think you'll never get it right. But you're wrong, You might. (Low)
We're gonna get it, get it together. I know we're gonna get it, get it together somehow. We're gonna get it, get it together and flower. (Up&Up)
Where do we go nobody knows? Don't even say you're on your way down, (when). God gave you style and gave you grace. And put a smile upon your face (God Put A Smile Upon Your Face)
People moving all the time. Inside a perfectly straight line .Don't you wanna curve away? When it's such… It's such a perfect day (Strawberry Swing)
Sometimes the stars decide. To reflect in puddles in the dirt. When I look in your eyes. I forget all about what hurts.(Miracles)
Are you lost or incomplete? Do you feel like a puzzle, you can't find your missing piece? Tell me how do you feel? Well, I feel like they're talking in a language I don't speak. And they're talking it to me (Talk)
Penggalan lirik lagu yang paling terakhir menjadi highlight saya kali ini. Mengapa? Karena berhubungan dengan slogan kampanye World Health Day, yakni Depression: Let's Talk! Slogan World Health Day 2017 dan lirik lagu Coldplay sama-sama ingin menyampaikan bahwa berbicara dengan orang yang kita percaya dapat menjadi langkah awal untuk pemulihan dari depresi.
Momen World Health Day 2017 kemudian ditanggapi oleh @america, pusat kebudayaan Amerika yang ada di Pacific Place dengan mengadakan sebuah percakapan antara Martin Seligman (Psikolog) , dr. Theresia Citraningtyas, MWH, PhD, SpKJ, Psychiatrist, dan Dr. Robert Lemelson (Ethnographic Filmmaker dan  Researcher). Salah satu poin yang dapat dihubungkan dengan depresi, sebagai perhatian khusus di tahun ini adalah pembahasan Martin Seligman mengenai model yang ia rumuskan sebagai Flourish. Model tersebut disebut PERMA. PERMA adalah abreviasi dari kelima elemen dari kesejahteraan psikologis dan kebahagiaan. Kelima elemen ini dapat dibangun untuk membantu orang yang mengalami depresi. P adalah Positive Emotions, E adalah Engagement, R adalah Relationships, M adalah Meaning, dan A adalah Achievement. Seligman mengatakan bahwa PERMA Model dapat diaplikasikan dalam hidup. Untuk melewati masa-masa depresi, salah satu elemen yang dapat dilakukan adalah R (Relationships) yakni fokus membangun hubungan dengan orang-orang yang dipercayai seperti keluarga dan teman. Temukan cara untuk terhubung dan menikmati waktu-waktu bersama mereka. Nah, jika Anda memiliki teman atau siapapun yang Anda kenal memiliki tendensi mengalami depresi, sudah tahu apa yang harus dilakukan terlebih dahulu bukan?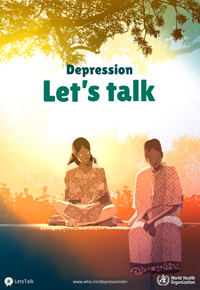 Referensi
Mariana. (2017, 24 Februari). The perma model: your scientific theory of    
        happiness. Diunduh dari https://positivepsychologyprogram.com/perma-
model/
Tentang Penulis
Febriani Priskila, seorang ilmuwan psikologi khususnya psikologi pendidikan. Berpengalaman sebagai akademisi baik pada pendidikan dasar maupun pendidikan tinggi.  Tertarik mempelajari dan pernah  meneliti topik-topik terkait pendidikan anak berkebutuhan khusus dan academic engagement.