Embrio Pusat Kajian Psikoteknologi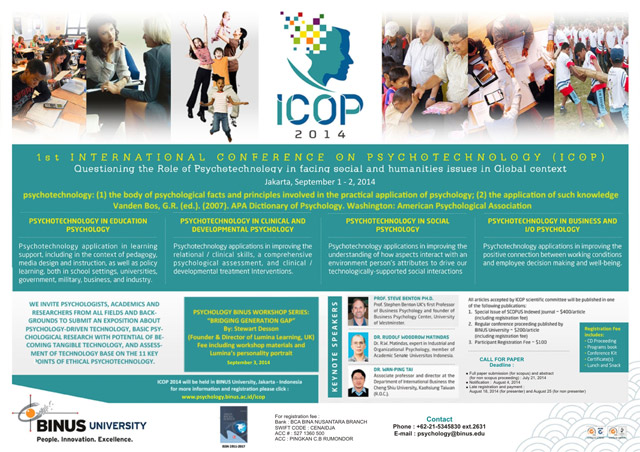 BINUS University selama ini tersohor berkat-antara lain-keunggulannya di bidang ICT (Information & Communication Technology). Seringkali pihak eksternal, mulai dari Kementerian Pendidikan sampai dengan orangtua dari calon maba (mahasiswa baru), bertanya-tanya, apakah keunggulan ICT tersebut juga terasa di Jurusan Psikologi? Psikologi dan Teknologi; apakah tidak kontras? (yang satu "IPS", yang satu lagi "IPA"?).
Jurusan Psikologi memiliki benih-benih gagasan yang memang sejalan dengan "kegelisahan" tersebut, dan dalam beberapa tahun terakhir menjadi semakin mantap merumuskan salah satu arah baru dari Jurusan Psikologi, yakni Psikoteknologi dalam konteks masyarakat urban/perkotaan.
Apakah Psikoteknologi berurusan dengan persoalan mentransformasikan tes-tes psikologi dalam sebuah mekanisasi komputerisasi, atau pembuatan aplikasi yang kian memarak? Ataukah, ada pengertian dan praktek yang lebih beragam daripada itu?
Masa persiapan Pusat Kajian ini ditandai dengan (1) The First International Conference on Psychotechnology (ICOP), 2014, dalam mana Dr. Budi Matindas sebagai salah satu pembicara kunci memaparkan gagasannya tentang "Psychotechnology"; (2) Tulisan Raymond Godwin, S.Psi., M.Si. tentang lanskap Psikoteknologi, yang akan terbit sebagai salah satu Bab (book chapter) dalam buku "Psikologi dan Teknologi  Informasi" (Penerbit: Himpunan Psikologi Indonesia); (3) Pertemuan Faculty of Humanities dengan School of Computer Science di sela Rapat Kerja Awal Tahun 2016; (4) Rapat Perumusan Research Roadmap, 27 November 2015, yang dihadiri Pingkan C. B. Rumondor, Juneman Abraham, Yosef Dedy Pradipto, dan Rani Agias Fitri, dan menyepakati rumusan visi penelitian Jurusan Psikologi BINUS 2020: "Penemu-kembangan psikoteknologi untuk meningkatkan daya saing manusia urban Indonesia di kawasan ASEAN"; (5) Pembentukan Tim Pembentukan Pusat Kajian Psikoteknologi pada awal 2016, yang terdiri atas Juneman Abraham, Esther Widhi Andangsari, dan Yosef Dedy Pradipto.
Berikut ini adalah sejumlah cuplikan paparan Dr. Matindas:
The Meaning of Psychotechnology – from Dictionaries :
the body of knowledge, theories, and techniques developed for understanding and influencing individual, group, and societal behavior in specified situations
the application of psychological methods and results to the solution of practical problems especially in industry
For Practical Purpose:
Collection of tools (technique) and method to predict and influence human behavior
The Types and Their Principles
The are two type of psychological tools
Tools for predicting behavior: These tools generates some measured behavior in a standardized situation to be used for predicting everyday's behavior. Tools can only be used if there are significant correlation between those behavior
Tools for influencing behavior: These tools consist of a series of standard operation procedure (treatment) to produce desired behavior. There should be evidence that a certain treatment do produce desired result
Tools for predicting
Psychological Test
Sociograph (Social Network Analysis)
Lie Detector
Body Language Analysis
Graphology (?)
Tools for influencing
Psychotherapy
Hipnoses
Meditation
Stress Management
Brainwash
Priming Techniques
Standardize Training
The Utilization:  What Should Be Done
IMPROVE the instruments / tools
Make use the development of Computers and information technology
Check the availability of the instrument to be used in other cultures
Make use the opportunity to do collaborative research using more heterogeneous  sample
Menurut rencana, peluncuran buku perdana (sebagai The First Book Series on Psychotechnology) akan dilakukan pada acara Dialog Psikologi Nusantara, awal Desember 2016, sekaligus untuk mendukung peluncuran Pusat Kajian ini.