Seminar Cara Cerdas Jadi Sehat Bersama Dr. Tan Shot Yen
Kamis, 4 agustus 2016 adalah hari yang ditunggu-tunggu. Bagaimana tidak, dihari tsb, human capital BINUS menyelenggarakan seminar kesehatan oleh Dr Tan Shot Yen. Dalam seminar tersebut, Dr Tan, mampu membuat kami terpingkal-pingkal sekaligus membuat hati kami teriris-iris karena tersindir, tersindir karena..yaah.. sesuai dengan realitas kami :she is very right and we are very wrong, indeed.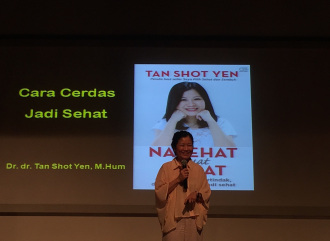 Dengan gaya bahasanya yang "ala Ahok" demikian Dr Tan mengistilahkan, dalam 90 menit Dr Tan mengedukasi kami tentang bagaimana berlaku cerdas untuk kesehatan.
(Berhubung isinya padat, saya akan menulisnya dalam beberapa artikel. Pada artikel ini saya akan menulis ringakasannya saja. )
Singkat kata, ada beberapa poin yang bisa dipetik dari seminar "Cara Cerdas jadi Sehat"
Kesehatan seseorang ditentukan oleh berbagai faktor, secara urut probabilitasnya mulai dari yang paling menentukan sampai yang kurang menentukan adalah: 1) perilaku 2) lingkungan 3) fasilitas kesehatan 4) keturunan. Memang benar kalau kamu bergaya hidup sehat, rajin fitnes, eh kamu kamu menderita diabetes tipe I (insulin dependen). Itu namanya kamu memang kurang beruntung. Apes. Tapi heloooo!! Kemungkinan seseorang memiliki profil kesehatan buruk karena keturunan itu sangat kecil. Misalnya diabetes tipe II (nah lho apa lagi ini? Apa bedanya dengan tipe II? Googling dong googling!!!). Jadi sebagian besar penyakit-penyakit itu ditentukan oleh tiga faktor yang lain. Okelah kamu salahin pemerintah yang tidak terlalu menyediakan fasilitas kesehatan yang mumpuni. Okelah, kamu kesel karena kamu hidup di lingkungan orang-orang yang belum sadar kesehatan, tapi the real penentu profil kesehatanmu adalah perilaku kita sendiri! How we live this life! So be self determined!
Kita makan untuk memenuhi kebutuhan tubuh agar dapat berfungsi dengan baik dan kita dapat bertahan hidup, bukan untuk memenuhi kebutuhan lidah (dan emosi) karena kalau demikian, sampai kapanpun kita gak akan pernah selesai. Jadi, makanlah makanan dengan gizi seimbang! Apa saja itu? Ah, rasanya semua sudah tahu: karbohidrat, protein, dan lemak. What? Did you say carbo? Yes! But a good one.
Kenapa ada kata-kata a good carbo? Begini, pada dasarnya semua makanan itu baik. Yang jadi tidak baik adalah karena kita yang suka menutup mata dan tidak kritis soal makanan hingga akhirnya terjadi pembiaran dan menganggap yang biasanya sebagai kebenaran. Yakin? Apakah manusia memang dilahirkan untuk harus makan nasi? Ya emang enggak, sih, tapi…. Hahaah, cukup. This is yes or no question, kalau ada tapinya artinya ada yang kurang tepat. So be wise and find the best source of carbo plus prepare it right.

Be smart! Bedakan antara real foods dengan culture foods. Pilih makanan yang masih sangat dekat dengan bentuk aslinya! Kalau ada makanan enak dan konon dari ayam dan lain-lain tapi bentuknya udah gak kayak ayam? Hmm… You may consider not to eat it. Selain itu, pengolahannya juga musti diperhatikan. So, better prepare the foods by yourself!!!

Sekali lagi, prinsip gizi seimbang. Orang dewasa Indonesia sangat kurang dalam konsumsi sayur dan buah. Idealnya, dalam sehari kita makan 3-5 porsi buah dan sayur @100gram. Oho…!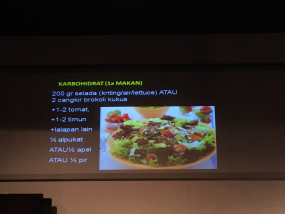 Sounds difficult? Tenang, yang perlu dilakukan saat ini adalah just do it! Kalau sudah bisa, nanti lama-lama jadi biasa. Kalau sudah biasa, lama-lama akan jadi budaya. Oke?
Jadi, demikian, ringkasan dari seminar kemarin. Nanti yang lain saya ceritakan lagi ya, yang lain-lain di artikel yang lain.. Btw, ini mengingatkan saya pada prinsip yang saya yakini: yang benar pasti baik, tapi yang baik belum tentu benar.
I want to make it right. How about you?
Thanks BINUS! Thanks Dr Tan!
(artikel ini adaptasi dari blog pribadi penulis di www.katagita.com)