Perusahaan Fortune500 Menginspirasi Kelas Psikologi Sosial tentang Keragaman yang Menguatkan
Pada 3 Juni 2016, kelas-kelas paralel Psikologi Sosial menyelenggarakan kuliah tamu dalam program Global Learning System (GLS) bertempat di Auditorium BINUS University Kampus Anggrek Lantai 4, Pukul 15:00-17:00 WIB.
Pembicara inspiratif dalam kuliah tamu ini adalah Bapak Hadiyansyah. Beliau merupakan Country HR and Site Service Leader for Dow AgroSciences ASEAN. Selama lebih dari 12 tahun, Pak Hadi-panggilan akrab beliau-telah malang-melintang di dunia HR, dengan sebelumnya berkarya antara lain di PT P&G Operations Indonesia, PT PZ Cussons Indonesia, dan PT Nestlé Indonesia; antara lain menduduki posisi-posisi sebagai HR Business Account Manager, HR Project Leader – part of Plant Leadership Team, Corporate Senior Manager Learning & Development, HR Business Partner – Commercial, dan Organization Development Specialist.
Dow sendiri merupakan perusahaan yang telah berdiri lebih dari satu abad di dunia, dan masuk dalam daftar perusahaan terkemuka Fortune500 pada urutan nomor 56 (http://fortune.com/fortune500/dow-chemical-56). Dow turut beroperasi di Indonesia sebagai PT Dow Indonesia. Berikut adalah deskripsi singkat perusahaan ini sebagaimana dikemukakan oleh Bapak Hadi:
"Dow, is an American multinational chemical corporation headquartered in Midland, Michigan, and operates in approximately 180 countries. As of 2015, Dow was the third largest chemical company in the world by revenue. Dow's principal lines of business include Agricultural Sciences, Consumer Solutions, Infrastructure Solutions, Performance Materials & Chemicals, and Performance Plastics. It employs approximately 53,000 people worldwide. Dow's 2014 sales totaled approximately $58.2 billion."
Topik yang dibawakan oleh beliau dalam kuliah tamu ini adalah "Managing Cultural Diversities and Gender Issues: Experience from A Multinational Company". Hal ini memperkaya para mahasiswa Psikologi Sosial dalam topik-topik seperti: Group Process, Identity, Prejudice, dan Prosocial behavior.
Pak Hadi menekankan bahwa Keragaman (Diversity) adalah key culture untuk sustainability sebuah perusahaan. Diversity memberikan kebaikan dan keuntungan bagi organisasi. Dalam aplikasinya, menurut beliau, berlaku prinsip rekrutmen yang seharusnya kita tegakkan, bahwa kita tidak boleh menolak seorang kandidat karena personal orientation, AIDS, dan atribut lainnya yang tidak relevan dengan pekerjaan, sejauh hasil asesmen menunjukkan bahwa kandidat memang mau dan mampu menunjukkan performanya. Perusahaan tidak ingin mengambil risiko untuk kehilangan calon karyawan baik (bahkan mungkin: terbaiknya) dengan mengambil tindakan yang tidak apresiatif terhadap perbedaan-perbedaan ras, jenis kelamin, orientasi pribadi, dan sebagainya.
Dow sendiri ternyata juga memiliki program yang bernama "Diversity & Inclusion at Dow", yang lebih lanjut dapat diakses pada laman sebagai berikut: http://www.dow.com/en-us/careers/working-at-dow/diversity-and-inclusion Terdapat berbagai employee networks di Dow yang menunjukkan keyakinan Dow terhadap nilai-nilai Respect for People, Integrity and Protecting the Planet; seperti Women's Innovationa Network, Disability Employee Network, Asian Diversity Network. Dalam salah satu prospektus yang dibagikan kepada para mahasiswa, dinyatakan oleh Dow bahwa:
"Inclusion is at the core of our culture. We invest in a culture where diverse viewpoints are valued, where tomorrow's leaders are developed with world-class cross-cultural competencies to thrive in a global economy. We continually strive to increase out understanding and appreciation of the differences among us through formal training policies that promote inclusion, accessibility and equitable treatment. This makes us thrive as an organization."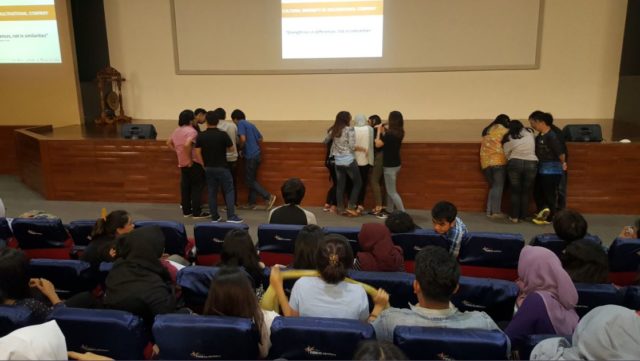 Kuliah tamu mata kuliah dalam koordinasi SCC Juneman Abraham, S.Psi., M.Si. ini berlangsung secara dinamis dengan diawali oleh aktivitas dalam kelompok-kelompok untuk kemudian direfleksikan oleh seluruh peserta. Bagian dari Program Global Learning System ini sangat sejalan dengan arahan Rektor BINUS University untuk menjalin kerjasama dengan perusahan-perusahaan global sesuai dengan cita-cita universitas in menjadi World Class University.