Mendorong Keterlibatan Publik Perkotaan terhadap Warisan Kultural
Pada 8 April 2016, kelas Psikologi Perkotaan (Urban Psychology) menyelenggarakan kuliah dari dosen tamu, Gita Widya Laksmini Soerjoatmodjo, M.A., M.Psi., bertemakan "Storytelling, Cultural Heritage and Public Engagement". Mata kuliah ini diampu oleh Rahmanto Kusendi Pratomo, S.T., M.Si. yang selama ini banyak berkarya sebagai arsitek dan mengelola persoalan hubungan antara lingkungan fisik dan psikologi.
Makalah kuliah tamu dapat diakses secara bebas melalui tautan ini. Berikut ini adalah gambaran isi kuliah sesuai dengan Abstrak dari makalah:
"AkhirPekan@MuseumNasional or Weekend@NationalMuseum is a 3-month pilot project organized by @Museum, a museum consultancy, for Indonesia's National Museum in Jakarta, from September to December 2013. In this Sunday family program, @Museum collaborates with the renowned Teater Koma to produce short mini-theatre performances on historical stories, taking inspiration from selections of 140,000 archaeological collections. The performance is delivered at the specific gallery where the related artefact is on display. The purpose of this preliminary case study is to describe how AkhirPekan@Museum Nasional program uses storytelling to engage the public's interest in cultural heritage. By examining findings from post-event questionnaires, this writing captures that most of the audience had been primarily attracted by the storytelling. This case study concludes that public engagement with cultural engagement can be secured through storytelling."
Makalah tersebut antara lain dijadikan rujukan internasional, salah satunya dalam artikel Museums as Theme Parks – A Possible Marketing Approach? oleh Alexandra ZBUCHEA dalam jurnal Management Dynamics in the Knowledge Economy (MDKE).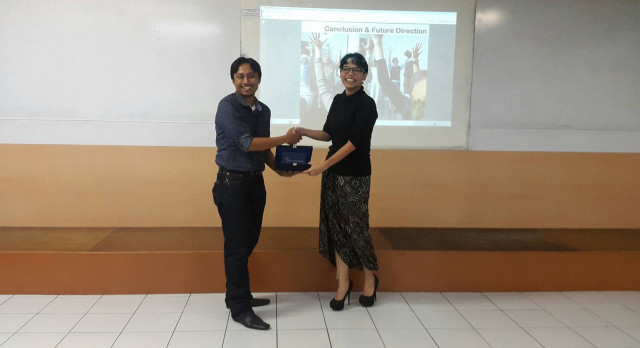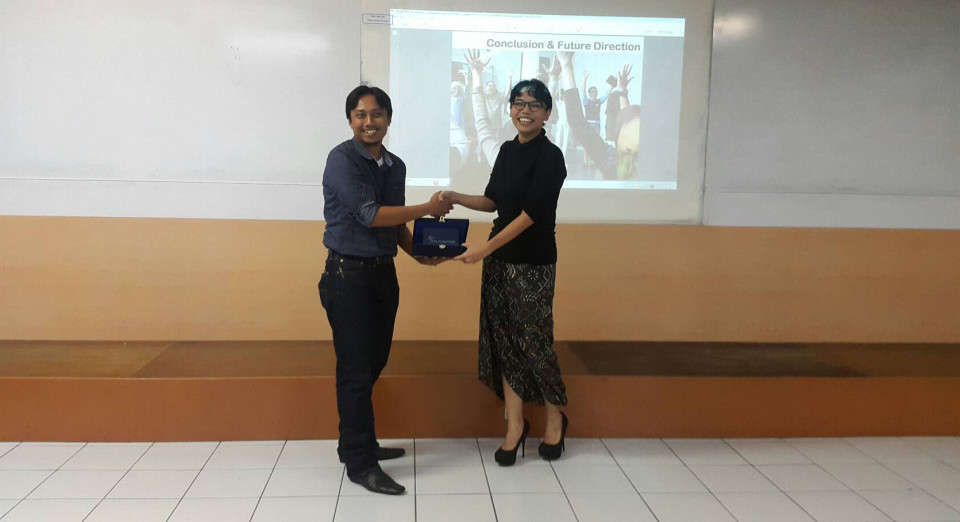 Kuliah tamu ini diinisiasikan oleh Juneman Abraham, S.Psi., M.Si. selaku Dosen Koordinator Rumpun Psikologi Komunitas, sebagai tindak lanjut dari pertemuan keduanya dalam Arte-Polis 5: Reflections on Creativity: Public Engagement and The Making of Place, kala itu (2014) sebagai sesama Penyaji makalah, dan kegiatan bersama sebagai Komite ABRAindonesia (Association of Behavioural Researchers on Asians, Indonesia Chapter) sejak 2015.
Gita Widya Laksmini Soerjoatmodjo, sang dosen tamu, saat ini menjabat sebagai Ketua Program studi S1 Psikologi pada Universitas Pembangunan Jaya, sekaligus merangkap sebagai Head of Liberal Arts, Sustainable Eco Development Center and Entrepreneurship pada universitas yang sama. Latar belakang pendidikan beliau adalah: Sarjana Psikologi, Fakultas Psikologi Universitas Indonesia; Master of Arts in Understanding and Securing Human Rights, School of Advanced Studies, Institute of Commonwealth Studies, University of London under highly competitive British Chevening Awards scholarship; dan Magister Psikologi (M.Psi.) and Psychologist in Educational Psychology, Faculty of Psychology University of Indonesia – with license as a practicing psychologist. Di samping itu, ia juga mengikuti ASEAN Thematic Training Program on Human Rights and Humanitarian Law on humanitarian laws di Mahidol University, Bangkok, Thailand, serta Facilitator Training on Technology of Participation di Jakarta.
Dengan kuliah tamu Global Learning System (GLS) ini, serta serangkaian kegiatan lainnya, mahasiswa Psikologi BINUS siap menghadapi dan mengelola isu-isu perkotaan yang semakin kompleks yang membutuhkan pendekatan psikologis dalam integrasinya dengan studi-studi perkotaan.