Partisipasi Alumnus BINUS dalam Konferensi Internasional Psikoteknologi Pertama di Indonesia
Pada tanggal 1-2 September 2014, Psikologi BINUS menyelenggarakan 1st International Conference on Psychotechnology (ICOP) bertajuk Questioning the Role of Psychotechnology in facing Social and Humanities Issues in Global Context. Konferensi bertempat di Kampus BINUS Anggrek, Jakarta. Para pembicara seseorah-nada-dasar (keynote speakers) dalam ICOP adalah Stephen Benton PhD (Profesor Psikologi Bisnis, University of Westminster, United Kingdom) dan Dr Rudolf Woodrow Matindas (Associate Professor, University of Indonesia). Dr Matindas memaparkan definisi leksikal "Psychotechnology"sebagai "The body of knowledge, theories, and techniques developed for understanding and influencing individual, group, and societal behavior in specified situations," dan untuk kepentingan praktis, ia mendefinisikannya sebagai "Collection of tools and method to predict and influence human behavior."
Anastasia Teoriman, lulusan terbaik Psikologi BINUS dengan predikat Summa Cum Laude (dalam Wisuda Emas BINUS, Juni 2014) merupakan satu-satunya alumnus Psikologi BINUS yang berpartisipasi dalam ajang ilmiah internasional kali ini sebagai pemakalah dan presenter. Dalam presentasinya pada hari pertama di Ruang 521, ia didampingi oleh Juneman Abraham sebagai Dosen Rumpun Psikologi Komunitas. Makalah yang dibawakannya berjudul "Kepekaan Antarbudaya Pada Mahasiswa Universitas Swasta di Jakarta", dan ditulis bersama Johannes A. A. Rumeser (Dosen Rumpun Psikologi Industri dan Organisasi) dan Juneman Abraham.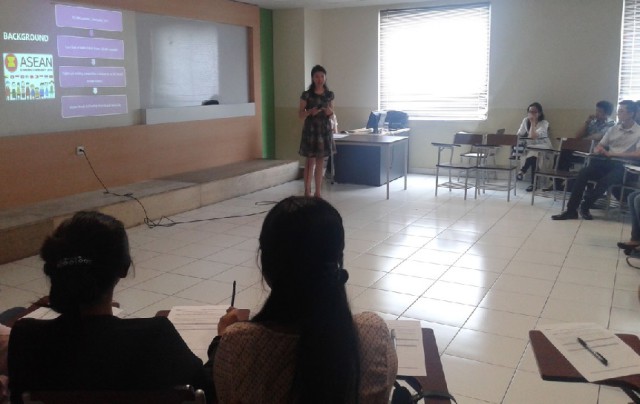 Tasia, panggilan akrab Anastasia Teoriman, memaparkan dengan lantang dan fasih bahwa kepekaan antar budaya (intercultural sensitivity; ICS) merupakan salah satu variabel penting, yang dapat dipelajari dan dikembangkan, yang berperan dalam meramalkan survival dan kesuksesan lulusan perguruan tinggi Indonesia di dunia kerja dalam era Masyarakat Ekonomi ASEAN (ASEAN Economic Community) yang akan dimulai 2015 mendatang. ICS terdiri dari 6 (enam) tahapan sebagai berikut: Denial, Defense, Minimization, Acceptance, dan Integration. Dengan mengaplikasikan Development Model of Intercultural Sensitivity (Bennett, 2004), penelitian empiris Teoriman, Rumeser, dan Abraham (2014) memerlihatkan bahwa berdasarkan komparasi ICS antar mahasiswa sejumlah perguruan tinggi swasta di DKI Jakarta, mahasiswa dari perguruan tinggi yang tidak berbasiskan agama tertentu lebih maju dalam tahapan ICS-nya daripada mahasiswa yang berasal dari perguruan tinggi yang berbasiskan agama tertentu. Meskipun demikian, basis agama bukan merupakan satu-satunya faktor eksplanatori-diskriminan dalam hal ini. Kemajuan dalam tahapan ICS pada mahasiswa perguruan tinggi yang tidak berbasiskan agama tertentu tersebut juga ditunjang oleh lingkungan fisik, kurikulum serta aktivitas yang diselenggarakan secara sengaja oleh perguruan tinggi itu yang dapat memfasilitasi pengembangan ICS. Dalam konteks psikoteknologi, intervensi dalam ketiga hal tersebut merupakan hal yang direkomendasikan bagi perguruan tinggi yang ingin meningkatkan ICS komunitasnya. Artikel hasil penelitian ini akan diterbitkan dalam sebuah jurnal internasional.
Partisipasi Tasia, yang juga berulang tahun pada 1 September, merupakan salah satu wujud konkret keterlibatan alumni dalam kegiatan yang menandaskan komitmen BINUS dalam pengalaman dan eksposur internasional seturut dengan visi BINUS untuk menjadi World-class University in continuous pursuit of innovation and enterprise.