PSYCHOLOGY BINUS WORKSHOP SERIES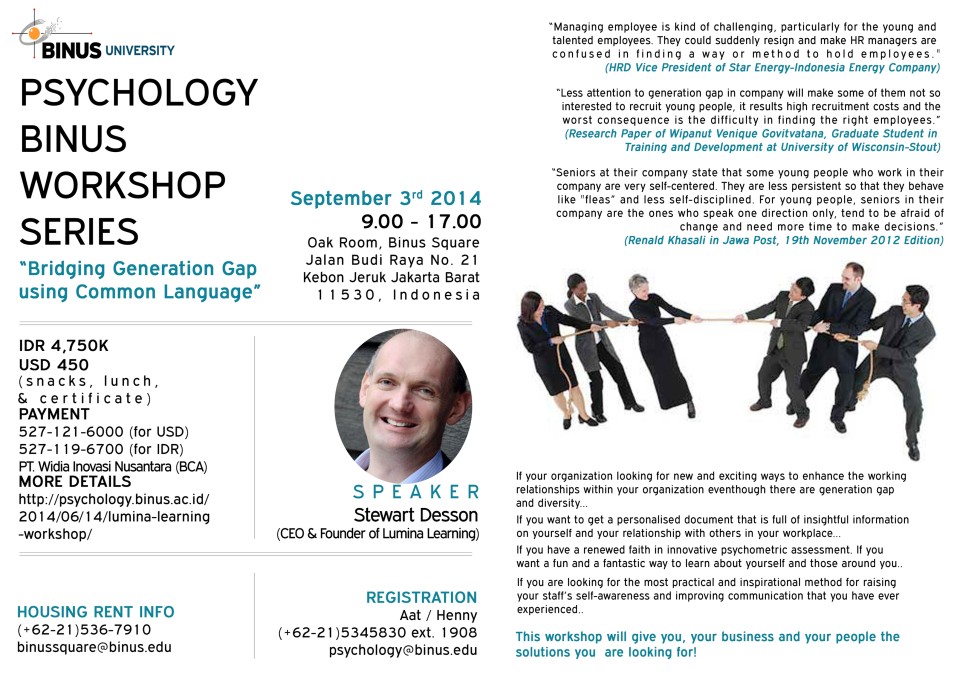 "Bridging Generation Gap using Common Language"
"Managing employee is kind of challenging, particularly for the young and talented employees. They could suddenly resign and make HR managers are confused in finding a way or method to hold employees "
(HRD Vice President of Star Energy-Indonesia Energy Company)
Less attention to generation gap in company will make some of them not so interested to recruit young people, it results high recruitment costs and the worst consequence is the difficulty in finding the right employees.
(Research Paper of Wipanut Venique Govitvatana, Graduate Student in Training and Development at University of Wisconsin-Stout)
Seniors at their company state that some young people who work in their company are very self-centered. They are less persistent so that they behave like "fleas" and less self-disciplined. For young people, seniors in their company are the ones who speak one direction only, tend to be afraid of change and need more time to make decisions.
(Renald Khasali in Jawa Post, 19th November 2012 Edition)
If your organization looking for new and exciting ways to enhance the working relationships within your organization eventhough there are generation gap and diversity…
If you want to get a personalised document that is full of insightful information on yourself and your relationship with others in your workplace…
If you have a renewed faith in innovative psychometric assessment. If you want a fun and a fantastic way to learn about yourself and those around you..
If you are looking for the most practical and inspirational method for raising your staff's self-awareness and improving communication that you have ever experienced..
This workshop will give you, your business and your people the solutions you are looking for!
WHAT IS LUMINA LEARNING?
Lumina Learning creates innovative psychometrics and qualifies and maintains a global network of practitioners who specialise in organisational change and long-term improvement. By taking a humanistic approach and viewing people as "human beings" rather than "human doings" Lumina Learning practitioners can help organisations transform their performance by transforming their people. We are passionate about improving personal effectiveness at all levels within organisations. We are single minded in our aim to fully equip you with the knowledge and tools you need to drive the success of your organisation. Lumina Learning's products will help you bring about superior results through inspiring and engaging your people. With Lumina Learning your organisation can: Develop a pipeline of transformational leaders Better manage staff and create high performing teams, build their sales capability and sell more strategically Dramatically improve productivity and personal effectiveness at all levels Attract and retain high potential talent In summary, we drive sustainable improvement in bottom-line performance and profitability through practical people development at all levels.
WHO IS THE SPEAKER?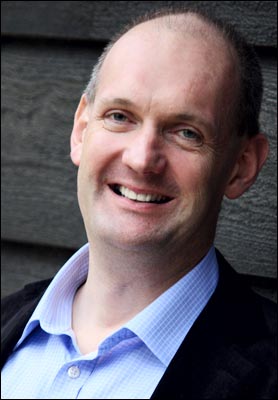 Stewart is the CEO and founder of Lumina Learning. He has a passion for building the community of like-minded professionals that are using Lumina Learning's offerings to help organisations become more effective through focusing on the development of their people. Stewart is also a highly experienced Business Psychologist and Organisation Development consultant and travels internationally as an inspirational speaker and sought after change agent. Before setting up Lumina Learning, Stewart had a long career with British Airways, travelling internationally as a consultant and working as a line manager. His passion was leadership development and the use of psychometrics to support change processes. With Lumina Learning, Stewart has supported many clients in customising their use of learning and assessment resources. He shares many of these experiences through his faculty role on the University of Westminster's prestigious Masters in Business Psychology. Stewart has two Masters degrees, the first in 'Operational Research' that he used extensively at British Airways when he became part of the leadership team that ran BA's internationally acclaimed Operational Research consultancy group. His teams specialised in applying the scientific method to BA's organisational challenges using mathematical modelling and statistical analysis. Later he became the Senior Manager that ran BA's Heathrow Customer Service's Change Programme and also managed the airport's internal recruitment unit, bringing in a competency based recruitment processes supported by psychometrics. This involved leading a fifty plus team of project managers and HR specialists who drove change at Heathrow. Stewart's second Masters degree is in 'Change Agent Skills and Strategies' and he is skilled in the application of humanistic psychology to support organisational change. Stewart has extensive experience developing learning resources, web based psychometrics and e-learning products with many clients globally.
This workshop will be facilitated by Psychology Department BINUS Team. They are Dr. Johannes Rumeser, M.Psi., Psi. , Esther Widhi Andangsari, M.Psi., Psi. , Pingkan C.B. Rumondor, M.Psi., Psi. , Raymond Godwin, S.Psi., M.Si. and Ayleen Wisudha (Global Partner Lumina Learning Indonesia)
WHEN AND WHERE IS THE WORKSHOP?
Lumina Learning Workshop will be held on
Wednesday, September 3rd, 2014.
09.00 am – 05.00 pm
at Oak Room, Binus Square.
Jl. Budi Raya, No 21. Kebun Jeruk.
Jakarta Barat, 11530. Indonesia
For more information related BINUS Square, please click the link below
http://binus.ac.id/binussquare/
HOW MUCH THE FEE?
The fee to be participating in Psychology BINUS Workshop Series is not included in the conference fee.
For registration fee:
For USD ($450)
Bank                          : BCA (Bank Central Asia)
Account Number     : 527-121-6000 (SWIFT CODE : CENAIDJA)
Name                         : PT.Widia Inovasi Nusantara
Branch Office             : Bina Nusantara
Remark Category    : Lumina
Address                    : Bina Nusantara Nusantara Building, Anggrek Cakra 10, Kebun Jeruk Jakarta
For IDR (4.750.000)
Account Number   : 527-119-6700 (Rekening IDR)
Name                       : PT.Widia Inovasi Nusantara
Branch Office          : KCP Bina Nusantara
Remark Category : Lumina
Address                  : Bina Nusantara Nusantara Building, Anggrek Cakra 10, Kebun Jeruk Jakarta
Please send your transfer slip to psychology@binus.edu and we will send you back the link that you need to open. Afterwards, you may fill the questionnaire. (Transfer cost must be paid by participant)

Latest registration     :August 28th, 2014

Latest payment         : August 30th, 2014

For registration please contact:

Aat / Henny

(+62-21) 5345830 ext.1908

Or email: psychology@binus.edu
ps: all information about Lumina and Steward are taken from: http://www.luminalearning.com/luminabackground/index/en-us