Call for Papers: Olimpiade Karya Tulis Ilmiah 2013 "Innovative Solution for the Future of Indonesia"*

PPI France proudly presents: OKTI (Olimpiade Karya Tulis Ilmiah) 2013


This year, PPI France in collaboration with Indonesian Scholar Journal are back again with our bi-annual program, OKTI 2013.
Get the awards for:
– The Best Paper per category
– The Best Scientific Presentation
– The Best Scientific Poster
The chosen papers will also get the opportunity to be published in Indonesian Scholar Journal and the winners will be submitted to peer-reviewed journal with the support of the scientific conference editor.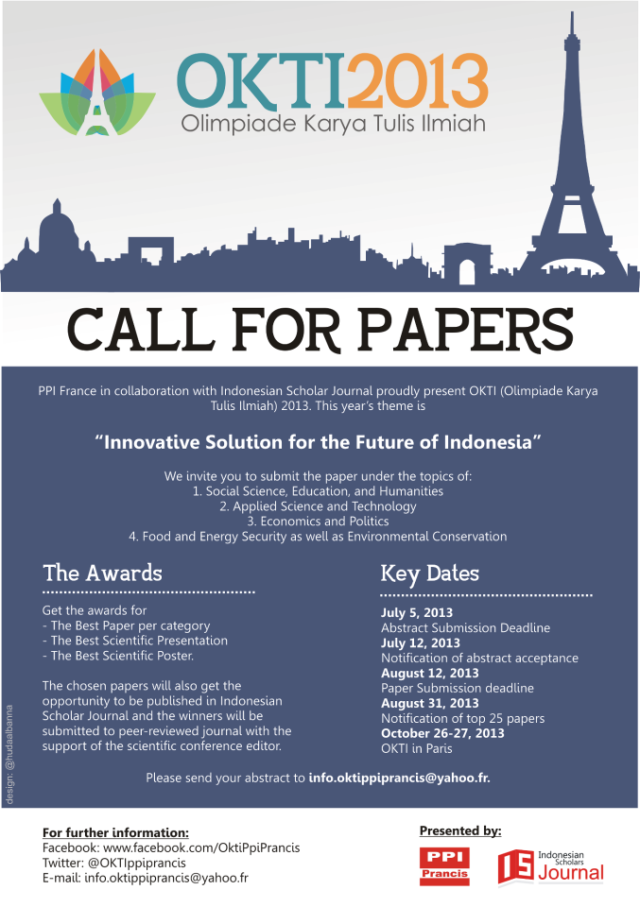 This year's theme is "Innovative Solution for the Future of Indonesia"
We invite you to submit the paper under the topics of:
1. Social Science, Education, and Humanities
2. Applied Science and Technology
3. Economics and Politics
4. Food and Energy Security as well as Environmental Conservation
Key Dates: July 5, 2013
Abstract Submission Deadline: July 12, 2013
Notification of abstract acceptance: August 12, 2013
Paper Submission deadline: August 31, 2013
Notification of top 25 papers: October 26-27, 2013
OKTI at Paris
Please send your abstract to info.oktippiprancis@yahoo.fr.
We are looking forward to meet you in Paris with your masterpiece. Be the next OKTI winner!!!
For further information:
Facebook: www.facebook.com/OktiPpiPrancis
Twitter: @OKTIppiprancis
E-mail: info.oktippiprancis@yahoo.fr
*tulisan ini merupakan re-post dari situs Kampus Update