Mengefisiensikan diri!
Setelah kita berhasil menyelesaikan suatu pekerjaan -yang akhirnya selesai juga- kita pasti merasakan kelegaan yang luar biasa. Walaupun,  jika boleh jujur,  kita sebenarnya tidak terlalu puas dengan hasilnya. Entah karena dikerjakan secara tergesa-gesa, atau terlalu dekat dengan tenggat waktu yang diberikan. Dari hati kecil kita pasti ada sebuah suara bahwa, "sebenarnya saya mampu menghasilkan yang lebih baik." Rasa ini tentu berbanding terbalik dengan kepuasan, yang ujung-ujungnya berkorelasi dengan kebahagiaan kita, bukan? Oleh karena itu seringnya setelah mengalami sesi asal selesai tugas ini, kita membuat semacam janji diri bahwa "esok musti lebih baik lagi."
Nah, bagaimana ya, supaya esok lebih baik lagi ini memang benar-benar terjadi?
Ada sebuah hal sederhana yang kita bisa mulai lakukan. Yakni mengefisiensikan diri kita. Sekali lagi, we are all agree that our time is limited. Jadi, aktivitas kita harus diatur dengan baik, dengan cara menentukan prioritas. Bagaimana caranya?
Kita bisa menggunakan metode Eisenhower, untuk membedakan hal penting dan hal mendesak.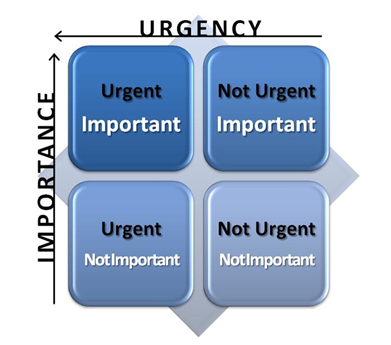 Apapun aktivitas yang harus dikerjakan, bagilah hal tersebut kedalam box diatas, dan tentukan bagaimana kita akan memprosesnya. Hal yang perlu diprioritaskan  tentu saja yang masuk dalam kategori penting dan mendesak, bukan? (Seperti contoh diatas, namun pertanyaannya, apakah hasilnya maksimal? Apakah kita happy?) Nah, selanjutnya, justru ini yang krusial. Kita bisa menanyakan pada diri tentang kapan hal yang penting ini akan dikerjakan; supaya hal yang penting dan tidak mendesak berubah statu menjadi penting dan mendesak? Jika sudah berubah status, memang akan memacu kita untuk mau –tidak mau melakukannya, namun sekali lagi, are you happy with the result? Oleh karena itu, kita perlu berstrategi, dan membuat perencanaan serta keputusan jangka panjang.
Selain metode Eisenhower untuk mengelompokkan prioritas, kita juga bisa meniru metode yang biasa digunakan Warren Buffet. Metode ini cukup praktis dan taktis untuk digunakan dalam mengorganisasi kegiatan kita sehari-hari. Bagaimana caranya? Begini: buatlah list hal-hal yang ingin ada selesaikan hari ini. Kerjakan hal-hal yang ada dalam list, mulai dari list paling atas, lanjutkan ketika aktivitas yang ada dilist tersebut sudah selesai dilakukan. Dan, jangan lupa, coret daftar dalam list setelah selesai dilaksanakan. Simple kan?
Better late than never. But never late is better.

#serimengenaldiri #selfimprovementseries
(inspired by: Krogerus dan Tschäppeler. 2011. The Decision Book. Profile Books LTD: London. )
(Tulisan ini juga ditulis dalam web pribadi penulis www.katagita.com)