Memungkinkan Sebuah Psikologi Sosial Asia
Pada 22-23 September 2016, Juneman Abraham, SCC Community Psychology, Bina Nusantara University, berpartisipasi dalam  AASP Capacity Building bertajuk "Asian Social Psychology: Epistemology, Teaching, and Action", di Fakultas Psikologi Universitas Indonesia, Depok, dengan narasumber utama Prof. James H. Liu, Ph.D., yang merupakan Professor, Adjunct Fellow, Centre for Applied Cross-Cultural Research University of Victoria dan Head of School of Psychology, Massey University.
Oleh karena keterbatasan tempat dan untuk efektivitas kegiatan, peserta, yang merupakan dosen Psikologi Sosial, diseleksi berdasarkan (1) pengalaman penelitian yang relevan dengan topik (ditunjukkan dengan CV)(2) tulisan makalah berbahasa Inggris (350 kata) dengan topik "Why social psychology in Asian perspective is necessary?".
Dalam Seminar & Workshop, pertama-tama, James Liu menjelaskan tentang Confucian Philosophy. Yakni Prinsip Interconnectedness & Holism. Implikasi: (1) Jangan mengkotakkan pendekatan "kuantitatif" dan "kualitatif" dalam riset; (2) Perlu kolaborasi psikolog dgn ilmuwan & praktisi disiplin lain; (3) Optimalkan modal sosial yang saling terkait; (4) Perlu keterhubungan dengan SDG (Sustainable Development Goals, konsen global). Filosofi bukan hanya untuk kegiatan akademik, tetapi untuk spirit diri sendiri, sehingga jangan disalahmengerti. Filosofi Konfusian bukan pertama-tama untuk dieksplisitkan dalam naskah riset.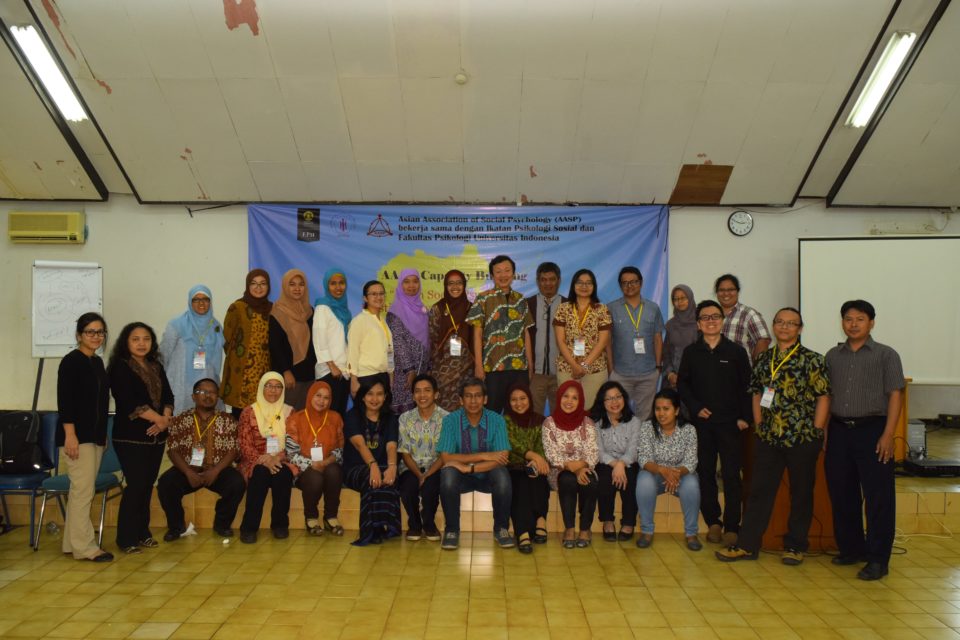 Selanjutnya, James Liu menyampaikan mengenai Golden Rule: Do unto others as you would have them do untuk you" – Jesus; "What do you don't want for yourself, don't do to others" – Confucius. DO: (1) Use your human heartedness, (2) Find others to cultivate self, (3) Practice professionalism. DON'T: (1) Follow others without a plan; (2) Let money dictate your research; (3) Worship power.
Ketika mengupas tentang Action Research, beberapa pokok pikiran yang disampaikan, diantaranya: Konteks urgensi action research adalah maraknya social change membawa pada social problem, yang perlu dicarikan jalan keluarnya. Penelitian bukan hanya berhenti pada p < 0.05. Perlu kooperasi dengan praktisi, pemerintah (Bottom Up). Riset adalah untuk pemecahan masalah (bukan hanya basic science). PAR (Participatory Action Research) adalah sebuah siklus Planning->Action->Observation->Evaluation->Reflection (bukan Top-Down/Aplikasi teori sahaja). "Application of principles from social science to group life and decision making: LONG TERM PLAN!". Tidak hanya berbicara tentang mengganti media perubahan sosial, tetapi ada proses kolektif.
Ketika membahas buku teks Psikologi Sosial: Menggunakan buku teks dari Western tidaklah berdosa! Namun, ada kebutuhan untuk menambah sedikitnya satu chapter tentang "Culture-oriented Psychology". Isi buku perlu dikoneksikan dengan rujukan temuan-temuan Asian Social Psychology. Alternatif dari chapter adalah artikel jurnal.
Dalam Laboratorium Psikologi Sosial: Ada aktivitas mahasiswa untuk (1) Mengobservasi lingkungan sosial, (2) Menguji norma sosial. Ada masalah praktis setempat yang ingin diatasi, misalnya Littering Behavior. Apakah teori psikologi mainstream bekerja? Evaluasi Program berdasarkan Process dan Outcome.
Usulan perubahan silabus mata kuliah Psikologi Sosial, misalnya Pada Pertemuan Kedua (Metodologi Riset), perkenalkan Asian Epistemology postulates: "Pengetahuan itu benar jika…." (Justifikasi pengetahuan berdasarkan spiritualitas? Justifikasi pengetahuan berdasarkan relasional? (termasuk hierarki?)). Ada tugas praktikal untuk re-think mengapa Western Social Psychology tidak bekerja? Ada usulan untuk jangka panjang: History of Indonesian Social Psychology. Di kalangan dosen: Proyek Pengabdian Kepada Masyarakat dijadikan masukan untuk Silabus.
Intinya: Agar kita tidak terasingkan dari mata kuliah yang kita ajarkan sendiri di kelas! "However, don't overlook Western psychologists' important experiences in developing their own indigenous psychologies," and "Don't think in terms of English or any other foreign language during the various stages of the research process".