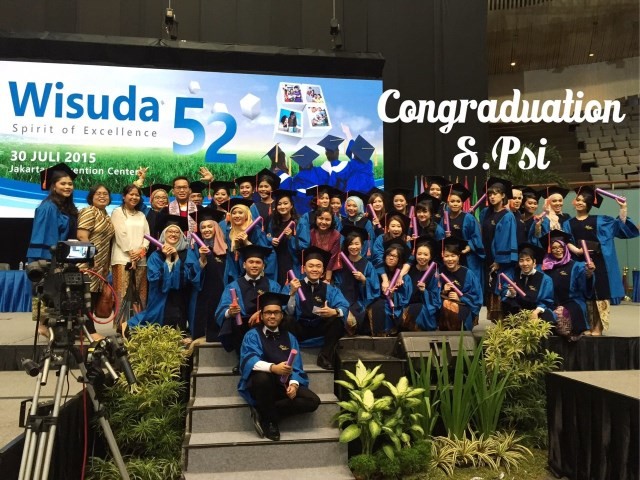 Akhir Juli lalu, sebagian binusian 2015  melaksanakan wisuda kelulusan s1 mereka. Tentu saat itu adalah saat yang membahagiakan. Selain itu, mungkin sebagian besar memiliki harapan yang sama, yakni segera mendapatkan pekerjaan impian.
Namun, tidak jarang keinginan dan rencana tidak berjalan mulus.  @MalloryLoone*** , direktur dari #ThrivingTalents membagi beberapa kesalahan yang sering dilakukan oleh job hunter. Dengan mengetahui kesalahan umum tersebut, sebaiknya teman-teman pun belajar dari situ. OKE?
Ini dia, COMMON MISTAKES in JOB HUNT
Bergantung pada satu cara job hunt. Misalnya nih, temen-temen cuma kirim CV ke satu perusahaan saja. Atau misalnya, cuma mengandalkan

jobsearch.com

saja untuk menantikan tawaran pekerjaan. Gak cukup kawan, semua metode sebaiknya dicoba. PROAKTIF, kalo kata saya.
Menunggu lulus untuk memikirkan, "mau (kerja) apa?". Kelamaan. Sekali lagi proaktif itu perlu. Bahkan jika perlu, sebelum lulus sudah kerja.
Last minute job hunting. Hmm, seriously?!
Peer influence. Melamar hanya karena kepengaruh teman, atau karena lagi hits. Hoo, semakin banyak yang pengen semakin tinggi dong tingkat persaingannya. Dan yang lebih penting lagi, "Do you really want the job?"
Letting your doubts stop you. Build your self-confident. Improve your self-esteem. Believe in yourselves.
Putting all egss in 1 basket. Nah, ini mirip yang pertama, so, mencoba banyak kesempatan tidak ada salahnya lhooo…
Nah, sudah mengevaluasi diri teman-teman??? Jika sudah, sekarang saatnya action. Wish you all the best!
salam,
/anggita
***Mallory Loone is the Lead Trainer and Director of Thriving Talents, a company that consults and trains young talents in organisations and universities to be Peak Performers in their work and life. The company's work in developing the leadership and entrepreneurial potentials of the Gen-Y workforce has been featured on CNN, BBC, the United Nations and the Malaysia Book of Records, whilst spreading their training footprints to 34 countries globally. She has trained and consulted talents in Microsoft, Intel, Bursa Malaysia, Chatime, Felda Global Ventures and leaders from governments and NGOs. On the global front, she has done training for various global bodies including the British High Commission and the YSEALI Programme under the U.S. Embassy Singapore.