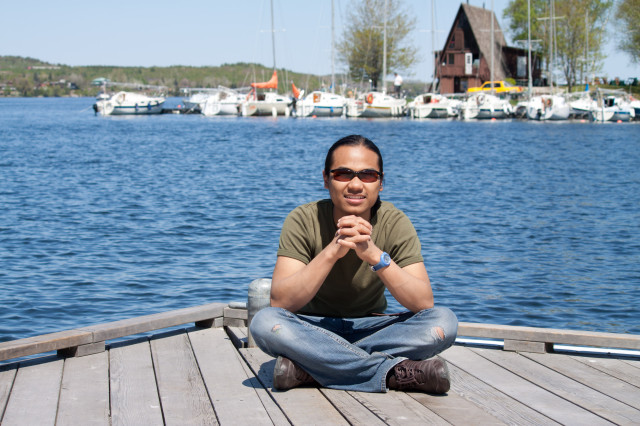 Practicum Coordinator of  Laboratory of Psychology
Educational Background
Master of Arts in Human Development, Laurentian University, Canada
Bachelor of Arts (Honours) in Psychology, International Islamic University Malaysia
Contact
Address (Office):
Department of Psychology, Faculty of Humanities, Bina Nusantara University, Jl. Kemanggisan Ilir III No. 45,  Palmerah, Indonesia, Jakarta 11480
+62-21-532-7630, ext.2631
igumilar@binus.edu
Research Interest
Why do people become aggressive and violent? Why do we put toxic into our body, e.g. smoking? Why do people take a drug?. Why do we buy something that looks interesting but in fact we do not need it at all?. Why do we spend our money unconsciously? Why can't we hold for three minutes to read notifications of message from Facebook, Twitter, and email?. All those problems have a common thing: loosing self-control. Without self-control, life will be chaos. The ability of self-control makes human life harmonious and aids to restrain oneself from taking irreplaceable and risky behaviors, e.g. killing, corruption, drug abuse, fighting, saying bad words, buying things impulsively, and so on. Self-control in relation to various aspects of life such as Facebook and Twitter use, religion, and aggression,  has become a main research interest.
I am very welcome and happy to discuss a potential joint research that can be carried out both nationally and internationally.
Publications
"Our media and Our Violent Generations: A psychological perspective". Presented on International Conference Media and Information Warfare: A Global Challenge in the 21st Century. August 16-17, 2007, Malaysia
Gumilar, I. (2011). Is it me? or Is it my religion that drives me crazy to take risk ?: A Closer Look on Sensation-Seeking Personality , Germany, Lambert Academic Publishing
"Multidimensional Religiosity and Sensation-Seeking Behaviour". 72nd Annual Convention of the Canadian Psychological Association, June 2 – 4, 2011, Toronto, Canada
Current Research Project
Problematic mobile phone use and self-control ability among young adults in Jakarta (Penggunaan handphone yang bermasalah di kalangan dewasa muda Jakarta dan kemampuan untuk mengkontrol diri)
Self-control ability in light of Facebook use among young adults in Jakarta (Kemampuan mengkontrol diri dikalangan remaja Jakarta dalam menggunakan Facebook)
Aggression and self-control ability among adolescents in Jakarta (Agresivitas dan kemampuan mengkontrol diri dikalangan remaja Jakarta)
Smoking dependence behavior  and self-control ability among adolescents in Jakarta (Ketergantungan terhadap perilaku merokok dan kemampuan mengkontrol diri di kalangan remaja Jakarta)
Religiosity and self-control ability among adolescents in Jakarta (Perilaku beragama dan kemampuan mengkontrol diri di kalangan remaja Jakarta)
Professional Affiliations
American Psychological Association (APA)
Canadian Psychological Association (CPA)
Indonesian Psychological Association (Himpunan Psikologi Indonesia/HIMPSI), DKI Jakarta Chapter
Past Research Project
Psychology of religion and Risk-taking behavior
Award
Graduate Fellowship, Laurentian University, Canada
Research Grant
Hibah BINUS 2013