BE WHAT YOU KNOW YOU CAN BE
Beberapa waktu yang lalu, saya menghadiri Psypreneurship, acara yang diselenggarakan oleh Himpunan Mahasiswa Psikologi, Binus University. Acara ini rutin diadakan setiap tahun dan tahun ini adalah tahun kedua. Semangat dari acara ini adalah Psychology, Creativity, dan Entrepreneur, artinya bagaimana menjadi seorang yang kreatif dalam berwiraswasta dilihat dari sudut pandang psikologi. Pada tahun ini sub temanya adalah "Fearless Nomads", jadi menjadi seorang entrepreneur yang kreatif harusnya tidak merasa gentar dan terus-menerus mencari peluang sama seperti karakter seorang pengembara.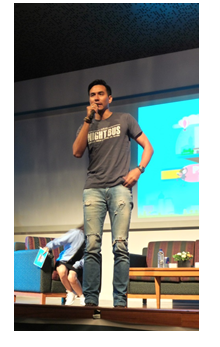 Anyway, Kok ada foto pria tampan di sana? The one and only, Darius Sinathrya! Beliau memang hadir di acara ini salah satu speaker yang akan sharing pengalamanya dalam berkarya sebagai produser. Speaker lainnya Ms. Anggita Dian Cahyani dosen Jurusan Psikologi Binus  yang juga adalah Subject Content Coordinator Industrial & Organization Psychology. Dari pembahasan kedua speaker, saya menarik benang merah dan mendapatkan insight. Tapi sebelum itu, saya coba sum-up apa yang disampaikan Ibu dosen cantik kita ya.
Ms. Anggita menekankan bahwa untuk menjadi seorang creativepreneur (sebutan untuk pelaku usaha kreatif), diperlukan dua karakteristik psikologis yakni efikasi diri dan motivasi. Namun, Ms. Anggita lebih banyak mengupas efikasi diri. Creativepreneur yang memiliki efikasi diri berarti memiliki keyakinan atas kemampuan dirinya dalam melakukan tugas untuk mencapai hasil tertentu. Nah, kalau merasa yakin atas kemampuan diri berarti harusnya telah mengenal dirinya terlebih dahulu bukan? Ini dilakukan oleh Darius juga loh! Darius menceritakan bahwa Ia dan rekan-rekannya yang bekerja di bawah rumah produksi yang didirikan bersama, mengikuti tes kepribadian online dengan tujuan mengetahui kekuatan dan kelemahan mereka. Hasilnya ternyata dapat membantu mereka dalam pembagian tugas atau peran dalam projek. Menurut hasil pengukuran kepribadian tersebut, Darius memiliki tipe kepribadian  commander.  Ini sangat cocok dengan peran Darius sebagai produser, yang bertanggung jawab dari proses pra-produksi seperti mengupayakan anggaran produksi, rencana pemasaran, rancangan produksi sampai mengawasi pelaksanaan produksi.
Insight yang saya dapatkan adalah ternyata langkah yang diambil Darius dan timnya untuk menggunakan salah satu instrumen kepribadian untuk lebih mengenal diri dapat mendukung efikasi diri.  Sebenarnya mereka mengetahui kemampuan teknis mereka dan dapat menciptakan peluang usaha, namun mereka masih membutuhkan informasi  yang komprehensif mengenai potensi dan kekuatan masing-masing sehingga dapat berkontribusi secara optimal. So, ketika kita selesai dalam mengenal diri beserta potensi kita, kita akan lebih mudah dalam memberikan penilaian dan meyakini apa yang dapat kita capai. Be what you know you can be…
Tentang Penulis
Febriani Priskila, seorang ilmuwan psikologi khususnya psikologi pendidikan. Berpengalaman sebagai akademisi baik pada pendidikan dasar maupun pendidikan tinggi.  Tertarik mempelajari dan pernah  meneliti topik-topik terkait pendidikan anak berkebutuhan khusus dan academic engagement.