PsyCare "I AM SMART" with Mimi Institute
Bakti Sosial bersama teman-teman disabilitas : PsyCare "I AM SMART" with Mimi Institute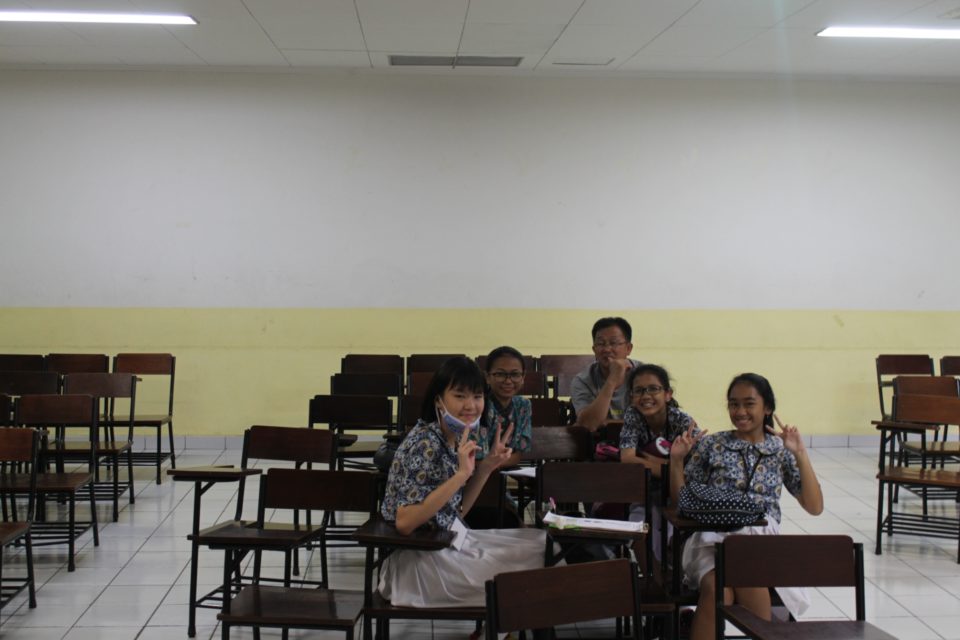 Apa sih PsyCare itu? Hm bukan, apa sih kegiatan bakti sosial itu?
Bakti sosial adalah suatu wujud dari kepedulian terhadap sesama manusia untuk meningkatkan rasa kekerabatan dengan orang lain.Dalam meningkatkan rasa kekerabatan tersebut Psikologi Binus menjalankan kegiatan Psychology Care (PsyCare).  PsyCare pertama dijalankan pada tahun 2015 lalu.
Tema PsyCare tahun lalu adalah  "One hand can be a thousand " yang menjalin kekerabatan dengan yayasan panti asuhan Putra Nusa. Dalam kegiatan tersebut peserta bermain clay, bercerita, dan juga berinteraksi dengan anak-anak – seru bukan?
 Kegiatan PsyCare ini terbuka untuk seluruh mahasiswa Psikologi Binus University yang ingin berpartisipasi dalam kegiatan sosial. Nah untuk tahun ini, PsyCare menjalin kerja sama dengan Mimi Institute.
Ada yang tahu Mimi Institute?
Oke kita kasih tahu ya! – Mimi Institute adalah suatu yayasan disabilitas yang terbuka bagi para teman-teman disabilitas yang ingin belajar dan bertujuan meningkatkan semangat juang mereka.Salah satu kegiatan yang rutin mereka lakukan adalah lomba untuk teman-teman disabilitas yang bernama I AM SMART. Tahun ini adalah kegiatan I AM SMART yang ke-5 loh!
Maka jadilah kegiatan tahun ini yaitu PsyCare "I AM SMART" with Mimi Institute yang diadakan pada Sabtu, 13 Agustus 2016 di Kampus Kijang Binus University. Kegiatan ini diikuti oleh 5 institusi disabilitas, yang terdiri dari teman-teman autism, tuna grahita, tuna rungu, tuna netra, dan low vision. Institusi tersebut diantaranya, Global Mandiri Cibubur, PSBRW Melati, London School, Pangudi Luhur, dan tentu saja Mimi Institute. Mahasiswa Psikologi Binus sangat berkontribusi di dalam acara ini, yaitu sebagai panitia dan volunteer acara. Ada 3 perlombaan dalam kegiatan ini diantaranya, Futsal, Estafet Air, dan Siapa tahu (Cerdas Cermat) – kegiatan yang meningkatkan aktivitas motorik serta mengandalkan kecerdasan, seru ya
Selama kegiatan berlangsung terdapat berbagai macam reaksi peserta, ada yang sangat excited, pendiam, ataupun sulit untuk didekati. Bagian yang paling seru adalah peserta telah mempersiapkan yel-yel yang sangat bersemangat dan seru! Bahkan ada beberapa peserta yang menunjukkan bakat mereka di bidang musik, yaitu bermain piano dan bernyanyi – suatu talenta yang mengharukan
Berdasarkan hasil akumulasi seluruh skor permainan, diperoleh juara pertama adalah PSBRW Melati dengan skor 1180, juara kedua adalah Pangudi Luhur dengan skor 888, dan juara ketiga adalah Global Mandiri Cibubur dengan skor 582.
Pemenang mendapatkan piala, sertifikat, bingkisan, serta hadiah dengan total 5 juta rupiah. Tapi jangan sedih karena seluruh peserta juga mendapatkan bingkisan sebagai hadiah mereka telah bersemangat dalam acara PsyCare tahun ini.
Hal yang paling menyenangkan dalam kegiatan ini adalah pada saat melihat senyum dan tawa para peserta. Suatu momen yang tidak bisa dilupakan dan menghilangkan seluruh rasa lelah yang ada pada saat kegiatan berlangsung.
Terima kasih teman-teman yang sudah sangat bersemangat dalam kegiatan kita kali ini.
Psycare, We share we care