BEDAH BUKU "Long and Winding Road: Jalan Panjang Pemulihan Pecandu Jakarta"
Bertempat di Auditorium, Gedung Yustinus Lt. 15, Universitas Katolik Indonesia Atma Jaya, pada tanggal 12 Mei 2015 berlangsung Diskusi Publik Serial Magister Psikologi dengan tema: "Long and Winding Road: Jalan Panjang Pemulihan Pecandu Jakarta" karya Eunike Tyas Suci, Asmin Fransiska dan Lamtiur Tampubolon. Buku ini merupakan hasil penelitian yang sempat di presentasikan disebuah ajang International Conference di Spanyol.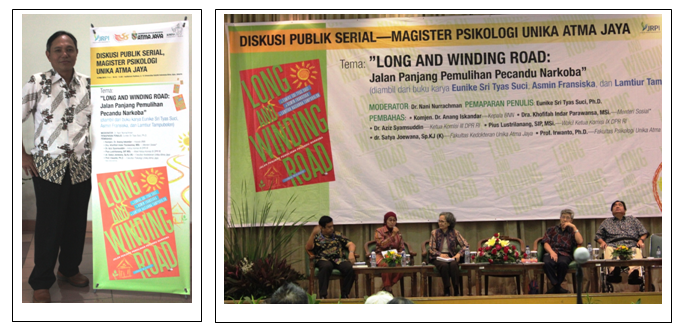 Buku ini tercipta setelah melalui proses panjang yang berawal dari kerjasama antara Universitas Katolik Indonesia Atma Jaya (Unika Atma Jaya) dengan Federasi Universitas-universitas Katolik Dunia (International Federation of Catholic Universities (IFCU) yang berkantor di Paris, Prancis.
Di dalam buku ini diulas berbagai hal tentang napza baik dari perspektif historis (nasional dan internasional) dan tinjauan teoretis (sosiologi dan Psikologi sosial). Kajian hukum tentang napza juga menjadi bagian tersendiri dari buku ini khususnya menelaah berbagai kebijakan Pemerintah Indonesia khususnya yang berkenaan dengan akses dan layanan kesehatan bagi pengguna napza. Secara khusus dipaparkan bagaimana kebijakan tersebut dipaparkan dalam proses pelaksanaan di lapangan.
Buku ini bak oase ditengah kegersangan referensi tentang langkanya buku yang secara komprehensif mengkaji kebijakan tentang narkoba. Buku ini gayung bersambut dengan seruan Presiden Jokowi yang lantang menyuarakan bahwa Indonesia ada dalam kondisi "Gawat Darurat Narkoba".
Penulis: Yosef Dedy
Editor: Berdi Dwijayanto