Dosen Psikologi BINUS Menghadiri Konferensi Anti-Korupsi
Pada 20 November 2014, dosen Jurusan Psikologi, BINUS University, Juneman Abraham, S.Psi., M.Si. ikut hadir sebagai peserta dalam sebuah konferensi internasional bertajuk "The Role of Shame-based and Guilt-based Culture for Education: A Way to No-Corruption Society" yang diselenggarakan di Auditorium Pusat Studi Jepang, Universitas Indonesia.
Konferensi ini merupakan buah kerjasama Konsorsium yang terdiri atas Pusat Studi Jepang Universitas Indonesia (PSJ UI), Universitas Padjadjaran, dan Universitas Al Azhar Indonesia, dan didukung oleh Ditjen DIKTI Kemdikbud RI.
Konferensi menghadirkan Pembicara: (1) Robertus Robet (Pakar Pendidikan, Universitas Negeri Jakarta), yang membahas topik "The Analysis of Indonesian Education System: No-Corruption Curriculum", (2) Saito Minoru (Kepala Sekolah Jakarta Japanese School)   yang membahas topik "Haji no Bunka Shame and Tsumi no Bunka Guilt in Japanese Education System", serta (3) Adnan Pandu Praja (Wakil Ketua Komisi Pemberantasan Korupsi) yang membahas topik "National Character Building for No-Corruption Society".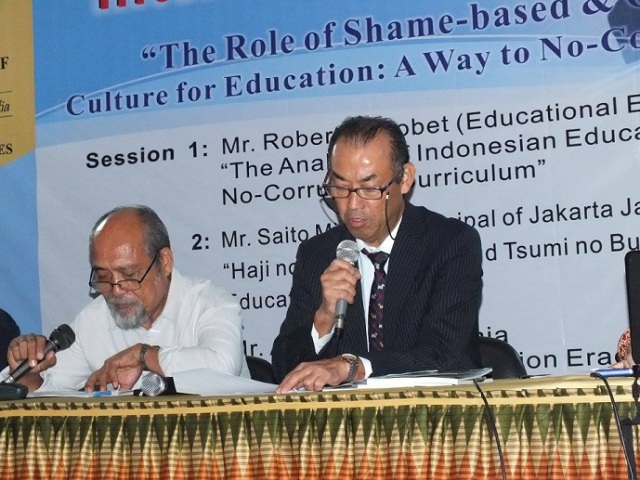 Di samping pemaparan topik-topik tersebut oleh para pembicara, konferensi ini juga menghadirkan pemaparan hasil-hasil penelitian yang dilakukan oleh para mahasiswa dari universitas-universitas anggota Konsorsium.
Juneman sendiri hadir atas informasi tentang agenda kegiatan ini dari Ketua Jurusan Psikologi BINUS University, Raymond Godwin, S.Psi., M.Si. melalui media sosial. Memang, seminar ini sangat relevan untuk dihadiri, karena Juneman melakukan penelitian yang mengangkat gejala tentang korupsi, yang dibahas dari perspektif psikologis. Di samping itu, ia juga sedang menyelenggarakan payung penelitian di Jurusan Psikologi BINUS University yang berkenaan dengan rasa malu dan rasa bersalah. Sudah terdapat sejumlah skripsi Sarjana Psikologi BINUS yang dihasilkan dari payung penelitiannya tersebut.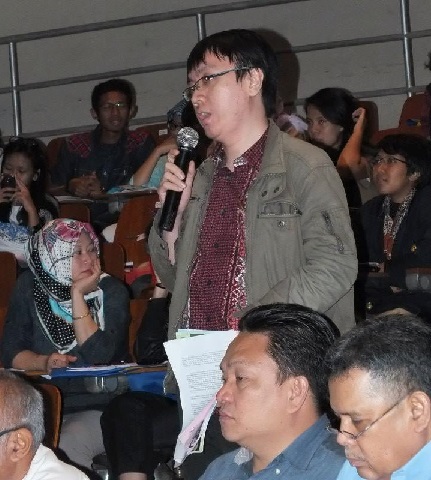 Dalam kesempatan konferensi tersebut, Juneman sempat mengajukan pertanyaan untuk didiskusikan mengenai peran ilmu-ilmu sosial dalam pemahaman, pencegahan dan pemberantasan korupsi.
Sejalan dengan penelitian yang sedang ditekuninya, pada 2015 ini Juneman juga memperoleh Hibah Bersaing DIKTI untuk riset dengan topik korupsi.