Sivitas Akademika Psikologi BINUS Dalam Forum Ilmiah Internasional Perkotaan
Pada 8-9 Agustus 2014, Jurusan Psikologi BINUS University berpartisipasi dalam Arte-Polis 5, sebuah forum ilmiah bertaraf internasional yang terselenggara di Institut Teknologi Bandung (ITB), Jawa Barat. Event yang bertajuk "Reflections on Creativity: Public Engagement and The Making of Place" ini menghadirkan keynote speakers Christopher Silver (Professor & Dean of College of Design, Construction and Planning, University of Florida, USA), Ridwan Kamil (Walikota Bandung), Clorindo Romo (City Laboratory of Mexico City), dan sejumlah pakar lain dari Australia, Hongkong, United Kingdom, dan Malaysia. Konferensi ini bertempat di East Great Hall (Aula Timur) ITB yang sangat historis karena merupakan bangunan pertama-tama di ITB yang berdiri sejak 1920.
Dua sivitas akademika Psikologi BINUS membawa sebuah karya ilmiah mereka yang berjudul "The Role of Psychology of Curiosity in Making up Digital Content Promoting Cultural Heritage among Youths". Sharron sebagai Mahasiswi Binusian 2015 didampingi oleh Juneman Abraham sebagai Dosen Rumpun Psikologi Komunitas. Penelitian dilakukan pada kuartal pertama tahun 2014. Sharron selaku peneliti utama memberikan presentasinya pada hari kedua (9 Agustus 2014) di Room 5. Dengan artikulatif, ia memaparkan hasil riset empirisnya yang memperlihatkan, "For promoting cultural heritage, virtual reality should maintain a paradoxical message 'communicating' and at the same time 'veiling' the cultural heritage". Penelitian ini mengangkat peran psikologi kuriositas (psikologi keingintahuan) dalam menyusun digital content di media sosial agar kunjungan ke museum dan cagar budaya–yang merupakan salah satu pilar komunitas dan pilar kota yang penting–di Indonesia meningkat. Penelitian yang dilakukan dengan tekun sejak penyusunan latar belakang hingga pemaparan hasil ini bernuansakan psikoteknologi dan psikologi perkotaan, yang telah ditetapkan Psikologi BINUS sebagai area-area keunggulan khas Jurusan ini.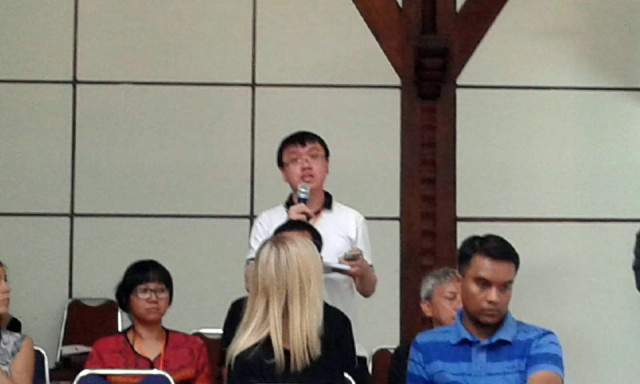 Karya tersebut telah terbit dalam "Proceedings Volume 2 – Planning Methods for Wider Public Engagement: Public Engagement for Cultural Heritage" (ISBN 978-602-70680-2-5) dan memiliki sertifikasi pembobotan dari Ikatan Arsitek Indonesia (IAI).
Dalam konferensi ilmiah ini, Psikologi BINUS juga berjumpa dengan sahabatnya dari Program Studi Psikologi, Universitas Pembangunan Jaya (UPJ), yakni Gita Soerjoatmodjo. Penjajagan kerjasama yang lebih erat dilakukan di atas landasan minat yang serupa di seputar tema keterlibatan publik.
Di samping misi belajar dari konferensi ini, Juneman juga menjalin simpul komunikasi. Sejumlah eksponen Arte-Polis ITB merupakan sahabat dari ABRA (Association of Behavioural Researchers on Asians). Ia telah beberapa kali berkesempatan mengikuti konferensi yang diselenggarakan oleh ABRA. Atas aktivitas tersebut, President ABRA telah memintanya untuk menjadi Representasi ABRAindonesia, serta memberikan kepercayaan kepadanya untuk membentuk Struktur Komite dan Sistem Keanggotaan organisasi akademik internasional ini di kawasan Indonesia. Mengemulasi struktur ABRA Pusat, Komite ABRAindonesia akan terdiri dari seorang President, seorang Vice-President, Sekretaris, Bendahara, Representasi Wilayah-wilayah Indonesia (Barat, Tengah, Timur), serta Auditor.
Tidak kebetulan, pada event Arte-Polis 5, Juneman berjumpa dengan Dr.-Ing. Himasari Hanan, assistant professor pada Sekolah Arsitektur, Perencanaan dan Pengembangan Kebijakan, Institut Teknologi Bandung. Secara khusus, ia meminta kesediaan Ibu Himasari Hanan untuk menjadi Penasihat ABRAindonesia, dan beliau telah menyatakan kesediaannya. Juneman juga telah berhubungan dengan rekan-rekannya, antara lain dari Universitas Ciputra Surabaya dan Universitas Diponegoro Semarang, dalam rangka mempersiapkan pendirian ABRAindonesia dengan target Desember 2014. Ia percaya bahwa Psikologi Perkotaan (urban psychology) membutuhkan Studi Perkotaan (Urban Studies) yang melibatkan berbagai komunitas disiplin ilmu dan institusi.