Smartphone or Smartpeople ?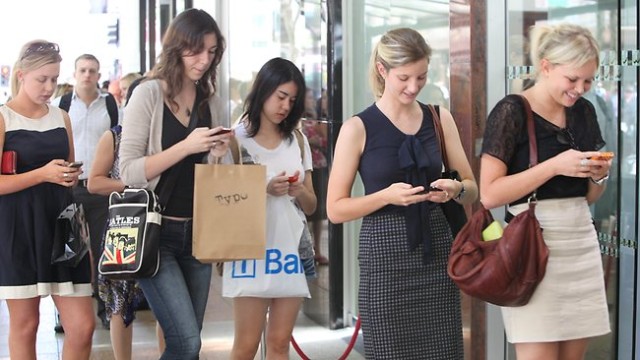 Teknologi memang memudahkan segala aktifitas dan juga membuat komunikasi menjadi lebih fleksibel. Akan tetapi, dilain sisi teknologi juga bisa membuat kita kehilangan kemampuan untuk mengkontrol diri sendiri.  Sebagai contoh, kehadiran smartphone telah banyak memporak-porandakan psikologi dan perilaku manusia di abad ini.  Setiap kali kita berjalan dan melihat sekeliling kita, sangat sulit menemukan orang yang tidak memegang smartphone. Bahkan di jalan yang sangat macet total sekalipun orang-orang masih tetap menggunakan smartphone baik di motor maupun di mobil. Yang lebih ironi lagi adalah ketika sekelompok orang bertemu yang saling berhadapan, smartphone tetap menjadi sesuatu yang yang paling utama dimana mereka "melupakan" manusia nyata dihadapan mereka.
Sering juga kita lihat manusia yang hanya mengandalkan skype untuk berkomunikasi tatap muka. Jika jarak sangat jauh, masih bisa dimaklumi. Tapi bagaimana dengan orang-orang yang sebenarnya dekat namun hanya malas bertemu dan memilih untuk menggunakan skype? . Hal ini tentunya dapat membuat ikatan psikologi menjadi semakin berkurang.
Teknologi memang memudahkan kita, sebagai individu di zaman yang sangat modern ini. Tetapi, coba kita lihat kembali, tidakkah teknologi membuat kita menjadi impulsif (memberikan respon terhadap sesuatu tanpa berpikir panjang) dan pemalas?. Sebagai contoh, ketika handphone berbunyi, banyak orang langsung "melayani" small gadget  tersebut tanpa memperhatikan keadaan sekitar, misalkan di jalan raya ketika sedang berkendaraan, yang terkadang dapat membahayakan dirinya sendiri dan orang lain. Rasa malas yang semakin mengakar  dan tidak mengetahui informasi lebih dalam sangat difasilitasi oleh kehadiran teknologi. Sebagai contoh, ketika seseorang tidak mengetahui sesuatu hal, cukup dengan memasukan satu keyword dan bertanya kepada syekh Google, maka semuanya akan keluar. Dan dapatlah informasi yang diinginkan.  Permasalahannya banyak orang terhenti mencari informasi hanya sampai disana. Dan inilah yang menyebabkan mengapa net generation pada saat ini mengetahui banyak informasi akan tetapi pemahaman mereka sangat dangkal.
PsyTroopers semua pastinya orang-orang yang sangat handal dalam menggunakan teknologi untuk kehidupan sehari-hari. Akan tetapi ada baiknya jika kita mampu untuk mengkontrol penggunaan gadget kita. Ketika kita sedang bersama keluarga, setidaknya cobalah untuk tidak terlalu banyak meng"entertain" handphone. Jika ingin mengerjakan tugas, cobalah untuk bertemu dan berdiskusi secara langsung daripada menggunakan Skype.  Oleh karena itu semua, mana yang mau kita pilih:
Be part of smartphone or Be part of Smart people?
(Chr)