Sepucuk Surat dari Taiwan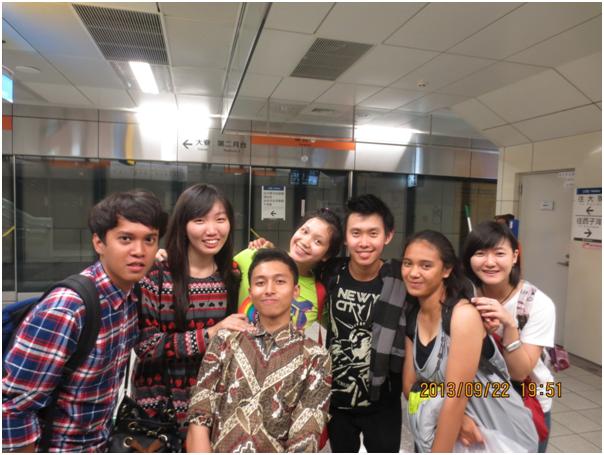 Kali ini kami ingin berbagi pengalaman tentang perjalanan kami sebagai exchange student di Taiwan. Pertama kali mulai dari proses seleksi di BINUS, kami merasa minder minder setengah mati ,  karena temen-temen lain anak berprestasi dengan IPK yang sangat memuaskan dan kami hanya mahasiswa biasa-biasa saja nilai pun pas-pas an , tapi saya mencoba untuk apply dalam pemilihan ini , mulai dari motivational letter dan interview yang membuat saya deg-degan hingga akhirnya terpilih !!
Segudang halangan dan rintangan telah kami lalui dengan penuh kesabaran mulai dari mengurus aplikasi pendaftaran hingga mendapatkan visa.  Dengan melalui proses itu saya menyadari bahwa kesempatan itu ada untuk siapapun dan tergantung bagaimana kita menyikapinya- tentunya perlu sikap yang sangat positif. Untuk meraih kesempatan itu, kita perlu mengerahkan segenap keberanian dan kemampuan yang ada.
Sesampainya kami di Taiwan sebagai segala letih dan penat yang membalut leher ini lepas dan rasa puas yang tak terbayarkan oleh apapun. Kami merasa tertantang untuk dapat terus meningkatkan kemampuan intelektualitas kami. Selain itu kami juga menyadari bahwa kami akan terus belajar untuk dapat meningkatkan kemampuan komunikasi kami dengan orang yang berbeda negara.
Rasanya sangat bahagia ketika kami dapat membangun persahabatan dengan mahasiswa internasional lainnya. Kami mendapatkan pengalaman yang sangat berguna bagi kegiatan akademik kami dan juga hidup kami secara general. Kami mendapatkan pelajaran bahwa kita WAJIB mencoba hal-hal baru dalam hidup kita agar perspektif kita dalam mempelajari psikologi jauh lebih dalam. Kami disini menyadari bahwa pengalaman berinteraksi dengan orang yang mempunyai pola pikir yang berbeda membuat kita dapat memahami diri kita menjadi lebih baik lagi. Budaya juga merupakan hal yang penting dalam pembentukan karakter dan personality seseorang. So guys, let's go out and face the world, you will have different view of life !
Salam hangat dari kami di Taiwan !